Our crews departed Lossiemouth at 1030, following a hearty breakfast, setting sail for Inverness only 40 miles away. A day ahead of schedule, this would mean Saturday could be spent playing around in the Moray Firth, and generally enjoying a job well done!
Again the winds were favourable and Clearlake II and Ashanti were soon darting through the water once more, with their crews taking it in turn at the helm, keeping them on course.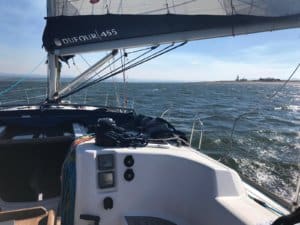 With such good wind, our vessels were soon passing under the Kessock bridge and entering the Moray Firth, where this leg of the trip ends and another begins. Before that though, there is another day of beautiful sailing to be had, with no destination in mind, just enjoying being on the water.
If you wish to support our crews on their voyage, and help Macmillan Cancer Support continue their vital work with those affected by cancer, please follow this link to our justgiving page:
www.justgiving.com/fundraising/premier-sailing
Thank you.